3 Stories, 5 Games
"– Mom? Tell me a story – I said fidgeting on a cramped seat in a coach.
– A story? – she considered. – And what about?
– About… – my eyes fell on the grey plush shark I never let go. – About the Little Shark…"
The concept of the book 3 Stories, 5 Games has followed me for years. The starting point was to encourage parents to read along with the children. The illustrations in the form of board games encourage to spending time together and having fun.
The stories were based on ones my mom used to tell me when I was a child, and although they underwent several changes before the final (current) version, they remain really dear to me.
Form
"Form – the term can be used in relation to physical features, it denotes also some mental features, characterising both men and any other things in their environment."
www.cotojest.info/forma_637.html
The space of studio, however ideal for exhibition of works, has always been too vast and anonymous for me. With delight I was looking how subsequent exhibitions were giving it a more individual character. Still, however, I was not able to "conquer" this space so that it reflected myself and my prints. The constant search for my own visual language and learning new technical opportunities made each of my projects a separate entity, dissimilar to previous ones. When in the sixth year I began experiments with spatial forms, I realised that was the right direction of my endeavours.
Form has resulted not only from my struggle with printmaking matter and exhibition space, but also with myself. Is the language, I would like my prints to speak: simple at the first glance, using basic elements. However, after a while you can realise its complexity and diversity.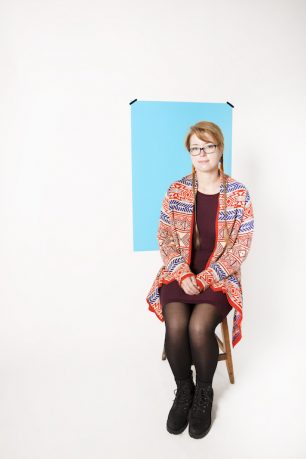 (born 1992)
Studied at the Faculty of Graphic Arts of the Academy of Fine Arts in Warsaw in the years 2011–2016. Rector's scholarship for the best students of the Academy in the years 2013/14 and 2015/16. Works in illustration, printmaking, and drawing. Participant of group exhibitions, including Night of Museums, Faculty of Graphic Arts of the Academy of Fine Arts in Warsaw (2015), Muskau Art Project – Searching for the Identity of the Place, Chevalier's House in the Muskau Park, Bad Muskau (Germany, 2015), Figurama 15, Pilsen and Kuks (Czech Republic), Wrocław (2015).